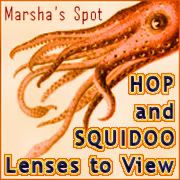 Shouldn't it be squidoo payday today? Maybe that just comes later in the day. I don't expect much, but I did have a couple of sales recently.
This past week I read a post on bubblews by another lensmaster. She wrote that another lensmaster had been prompting her to update her profile. Mostly to add in a link to her bubblews profile.
This motivated me to get in to squidoo and update my own profile.
I changed it up just a bit and then did add a link to my bubblews profile page. (although I sure with bubblews would be up more than it's down).
While there I also switched up the 5 lenses of mine that you see down the side as well as add my google+ link and changed a couple of those other website links too.
This week, if you don't mind, let's do something different in the linky. For one of the links that you share, please make it your profile page. I'm interested in what others have for their profiles.
When I'm returning comments, I also open the person's profile page in another tab before approving the comment.
Thanks gang!