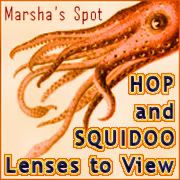 With Easter and the perparations, I'm sad to say that I only visited squidoo a few times this past week.
I have some catching up to do!
I do have goals that I WILL make this week.
I have 4 lenses left that I need to decide which 20 amazon links are staying. I will get those done.
I also have a craft book review written up in word as well as pictures to go with it. I will get that new lens up too.
This week in the linky I will share the other 2 lenses of mine that were put into the Best Of category.
Happy Squidooing!