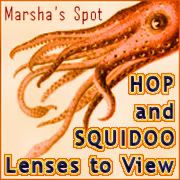 Seems I have a full blown case of the the flu. I should be looking up lenses about the flu, I might find some hints to help me feel better. Actually my doctor has called me in a prescription for one of the z-paks.
Aside from being sick, I did actually build a new lens this week. Lenslet I guess they are called. It's on Green Eggs and Ham. I will put it in the linky. There is another book I want to do...Runaway Bunny, that Ruthi aka abitosunshine has as one of her suggested books to review. I haven't had a chance to look on my children's book shelf to see if I still have the book.
How has your week been with squidoo?
I hope to see lots of links added this week. Keep me busy!