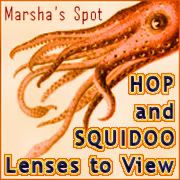 It's Thursday again and time to share blog posts relating to squidoo as well as links to 1 or 2 of your lenses.
Again it's been crazy around my house.....or outside of my house. In and out. It doesn't stop for me until after I attend this quilt retreat this weekend. I don't think that things will ever slow down for me though. I have lots of sewing related things that I do outside of the home and I like it that way.
Then there are church related activities and family. Go go go.
I could take lots of pictures at the retreat this weekend and build a lens that talks about quilt retreats. That could be a nice lens. I should do it. Will I?
How can I get more participation here each week and get more people to come and link up? Suggestions would really be appreciated.