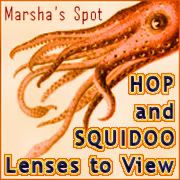 Tomorrow is Valentine's Day. Do you have any special plans.
I think we are going to have to fix a nice meal at home. It's also Friday, the day we take my mom out to eat, so we will have her over.
My daughter has a new love interest in her life, so we plan to have him over for dinner too.
Finances don't allow us to go out.
I've been having computer issues ever since the malware thing on bubblews. I've done a system restore back to a day before. Please wish me luck. I've not been able to even have my computer on for an hour before it starts to slow to a crawl slower than a snail. All I can do is restart, but restarting all day is time consuming too. Too much to do and too little time as it is!
Sadly I've not done much at all on squidoo all week. I was sick up until Sunday when I finally felt well enough to sit at my desk again.
Maybe this can be a banner week! It should also be payday today or tomorrow too, so that will be good.
Link up any blog posts as well as 1 or 2 of your lenses that you would like to share this week. I think I will link up again from somewhere towards the bottom of my lensrank to give those a little push.