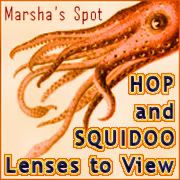 How are things in squidoo for you?
I "know" many of the new contributors through online socializing. I look forward to what many will share with us on this new adventure.
I had applied for yarn yarn yarn and then one other one, which I forget now what it even was. I wasn't picked for either. I also didn't realize from reading the email that there would only be one per title.
Some of the ones I am seeing I don't even remember seeing on the lists!
I'm ok with it, especially when I seen that each contributor had to make a get to know me page. I will just enjoy what everyone else contributes and keep writing my lenses here and there.......when I get that motivation to do so!
I want to make another crafts as gifts lens. I never got around to making one for 2013, so think I will title is 2013 and beyond. I will have more book review lenses as I complete reading books.
I look forward to seeing what is shared this week. Since I've once again done no updating or building, I am choosing to share 2 lenses that are towards the bottom of my lens list by ranking.