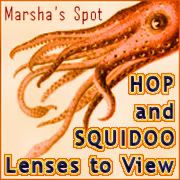 I hope that everyone had a very Merry Christmas! Here's also to a Happy New Year.
I read a post on bubblews yesterday and the person was pretty much making fun of those of us who make goals for the new year. She wanted to know why we can't work on goals all year, or why can't we start now?
I commented that it just seems appropriate-new year, new you, but that I do try to work on my goals all year, and make new ones throughout the year. And, that I have already started on the goals that I have written down.
Do you have any goals with squidoo that you would like to share?
Mine is the same as always-----to be more active. I'm sure willing to give it a couple of months and see how things go anyway. By a couple of months I mean a couple of months of payments, and I won't see for my efforts in January until March and for February in April.
I am going to share in the linky this week a couple of lenses that are down at the bottom on my lensranking.
Happy Hopping!