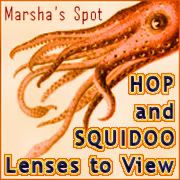 Another week has gone by and I didn't get any new lenses built. I only updated the one lens. I am concerned about how many people I am seeing that are saying that squidoo has locked ALL of their lenses. Any ideas at all why someone would get all of their lenses locked? That is a scary thought. I show 10 locked, but they say they aren't really locked. They are the 10 that I have left that had more than 20 amazon links. No reason why I haven't taken the time to go in and pick and choose what amazon I want to stay.....it doesn't take that long to get that part of it done. Sometimes it is hard deciding what products to keep and which ones to get rid of.

*****

Last week there were links added to the linky that did not go directly to a squidoo lens, or a blog post about squidoo. Please refrain from linking up anything except squidoo related.

*****

I think this week I will link up a couple of my lenses that are in the middle of my list as far as lensrank.