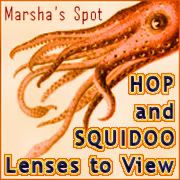 Happy Thursday!
Thanks so much to those of you who linked up last week. It was fun getting back into the swing of things.
I didn't get as much done in squidoo as I would have liked to have, but I did spend quite a bit of time. This week will be even better.
I did get to one of the 11 lenses that I hadn't dwindled down the amazon links on yet. It's hard to pick and choose on some of those on what products you want to stay and which ones you want to get rid of.
I still haven't tried the new formats yet, but I have a plan for using all 3 of them.
Is there any new squidoo news that we need to know?