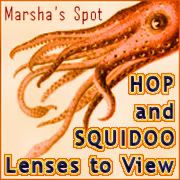 Admittedly, I've not been in squidoo much this past week. I did just a few minor updates to a few lenses. I checked for comments. Mostly, I was checking in to see if any of my lenses have been locked or marked. So far none have, but that may only be because they haven't gotten to the giants yet?
I have loads of lenses that as I see them need major overhauls. (I'm not keeping up with any of my online projects except bubblews these days)
I'm going to leave it to your choice which 1 or 2 lenses you would like to share in the linky this week.
Also please share any blog posts you have written about squidoo.
Comment if you have had experience with this second filter! Thanks!