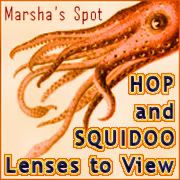 I am asking this week that you leave me your thoughts, opinions, and suggestions on this weekly squidoo blog hop.
When I started it, my intention was a way for lensmasters who blog about squidoo to link up their blog posts.
There are a lot of lensmasters who blog about squidoo, whether it be tips, tricks, SEO, blogging about their lenses etc. I only ended up with 2 regular bloggers who linked up. I truly did appreciate them.
Then, I came up with the idea of allowing lensmasters to also link up 1 or 2 of their lenses as well. I was thinking this would give access to another point of backlinking. Also, it would give others a chance to see the work of others as well.
I have been doing this hop for about 3 years now I believe and it's still never really taken off. There have been a couple of weeks with around a dozen link ins, but that's it.
I paste the link in to 3 groups on facebook. I email the link to my connections on google+ and then I go back in and share the link with the one squidoo group in google+ that I am in (I was in 4 groups, but not sure if the others were closed or if I was kicked out?)
So please be honest with me in your comments this week. Should I stop doing this blog hop? If not, what suggestions do you have to get more people to participate and link in?
With all that said, if you do link up, please choose any 1 or 2 of your lenses that you would like to share this week, as well as any blog posts you would like to share pertaining to squidoo as well of course.
P.S. I've admittedly still been addicted to bubblews this past week. I've checked in with squidoo each day checking if any of my lenses are being flagged. As of yet none are. I have some photos gathered to update a couple of lenses. And, speaking of the word gather----I must get in to all of my lenses where I have shared gather.com posts and see what I can exchange for those links as the last word is that gather probably will not be returning, especially as we knew it.