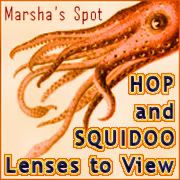 I was mistaken when I thought that Spring was finally here in Kansas. It's currently snowing again--blah! My daughter and I planted a garden last week. I even started a new lens for this season on our garden. I am sharing that link in the linky this week.
I had to go out yesterday morning and cover the plants again. I do hope they survive! The high here today and tomorrow is only 40.
Other than getting the new lens built, I'm ashamed to say that I've not spent much time in squidoo at all. One of my other regular sites went down for server change and I've found myself lost writing in bubblews.
Are any of you also on bubblews? If so, I would love to connect. Are you writing and including links to your lenses? So far I've only put in one link to one of my lenses. I'm a little leery not knowing for sure if it's ok to link drop? I know one gal constantly puts in photos of craft items along with a link to find it in her etsy shop. Another gal is putting in bits of her hubpages writing with the link to read the full story.
This is the link to my profile page if you would like to connect with me over there.
http://www.bubblews.com/account/13348-marsha32
As far as any sort of theme for this week's blog hop, I don't have one. Share any lens that you would like to. Also link up any blog posts you have done regarding squidoo as well.
It seems that the updating and flagging thing has been worked out. I need to get in to the facebook groups to see what all is going on. I will do that today as I go in to share the link to my blog.