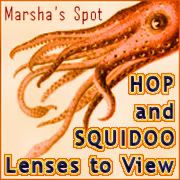 It's been awhile since I've been working in squidoo like I really should be, but there are so many changes going on!
Tell me if I am missing any:
1. They want us to make our lenses not so commercial and more personal.
2. We can only squid like up to 10 lenses per day.
3. Angels can only bless up to 5 lenses per day, but no lens can receive more than 5 blessings total.
Then, last night the first lens I went to update, right towards the top, they are encouraging me to add an amazon module. Oh boy, talk about confusing! I clicked the link to see "what's this?" So, now they are saying that if there isn't an amazon module within the first 5 modules they are encouraging us to find products that have to do with our lens to add. Isn't that kind of going against what they are wishing on the being less commercial??
The lens I happened to be updating was my lensography, which only had a few sales things in it. Instead, it's full of photos of my family, and then links to my directories of lenses by category. Right under their amazon note though, I had put in a t-shirt from zazzle that says Marsha Marsha Marsha. I guess they are only concerned about amazon.
I did go ahead and find something----yellow things, since that is my favorite color and about me. I will link it up in the linky this week and I hope you will let me know if having that amazon in there is alright.
The other lens that I totally re-did, needed to be fixed for a long time now. It is called Anime Fun and I built is back in 2008 for my daughter. I had used a bunch of the anime pictures she had saved to my computer. She had gotten them from one of the photo sharing websites. Of course I learned long ago that just because that website says that anything you share there is open for others to take, that wasn't really the case.
I'd just put off updating the lens knowing the time it would take to do so.
Anyway......I just deleted about 10 of the pictures, but replaced all the others with posters from all posters. Above a couple of the posters I put in a personal note with a link to another of my lenses. I added a black box with a link to the anime that is currently her favorite. I also changed the intro photo to a drawing that my daughter recently did.
But.......I do have a concern that with me switching it to so many posters that it's still going to be considered to be too commercial. I am also listing it in the linky and hope that you will let me know what you think.
For this week, I hope you will share in the linky 1 or 2 of the lenses that you have recently updated to comply with their being less commercial wish!! Also, please any blog posts you have written that pertain to squidoo at all.
Thanks!