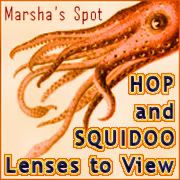 First, let me apologize for missing last week's post.
Here is Kansas we were hit by 2 heavy winter storms this past week. By the end of last Thursday we had 15 inches of snow. Bam! On Monday it came back with another 8 inches.

Let's try a theme again this week in our sharing of lenses. Once last hurrah (I hope!) to winter. Link up 1 or 2 of your lenses that have anything to do with winter.

If you have blog posts from this past week that deal anything with squidoo, please also link those as well.