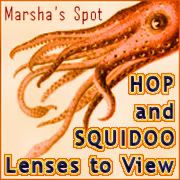 (sigh)
I hadn't built a new lens since Dec 2! I finally stop procrastinating on a music review and spent 3 or 4 hours working on this lens.......only to get it put into heads up status for duplicate content.
That is the hardest part for me with these reviews, as the company sends me info that they want in with the review.....mostly along the lines of about the author etc.
I went through the info sent to me and rearranged sentences, changed words, eliminated some words, even eliminated some whole sentences. The filter still caught it as duplicate content.
I now have gone in and only left 1 or 2 sentences (still in my changed form) from each paragraph and then linked to the biography on his official website. I do hope it's enough to get it out of heads up, but 3 days later they haven't changed it yet.
How do you handle when you are in this situation? It's frustrating for me. I am linking the lens first in this week's linky.
Valntine's Day Myspace Banners