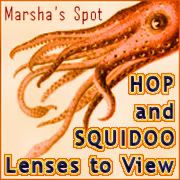 Since tomorrow is February 1 (already!), let's make this week's theme February. Share 1 or 2 of your lenses that have anything to do with February.
I only happen to have one lens, which is my history lens. My oldest daughter will celebrate her 27th birthday tomorrow. Even though she has 5 children it's still hard to believe that many years have gone by!
I didn't make my goals last week with squidoo, but I did work hard on them. Here's hoping that this next week brings me lots of motivation to get to work!