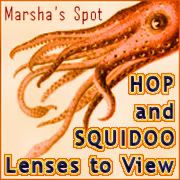 This week I am choosing Hand Made to be the theme for many reasons:
1. I'm in the middle of making gifts myself.
2. I want more ideas.
3. I have a linky page here on my blog that is just for handmade posts. (I would love it if you would click over to the Handmade 2012 page and check it out and add to it!)
Don't worry, if you don't have any lenses about home made gifts and such, you are still welcome to choose 1 or 2 of your other lenses to link up. And, as always, please link up any blog posts where you talk about squidoo as well.