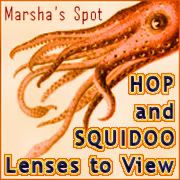 This week let's talk about our goals with squidoo for 2013.
A few years back I made myself a goal of updating or building a new lens daily. I've not been able to ever keep up with my goal. This year it's my sincere goal to do so!
Even on my busiest day there are small updates I can do such as adding a flag counter, making a custom bio, checking tags, adding rss feed. The list goes on and on. I have a written list on ways to update and there are currently 21 items on my list.
Share one or 2 of your lenses in the linky, plus any blog posts you may have done pertaining to squidoo. I also hope you will share your squidoo goals for 2013 in the comments section.