I didn't get much done this past week, but something is better than nothing, for sure.
I just put it all together for one picture:
The double towel scarves with the wine towels are actually done, sold, and shipped. Under those are blocks and batting ready to be made into more microwave hotpads/cozies. In the middle is fabric to cut to make more of the composition notebook covers. While finding that fabric, I ran across some blue that I pressed to be ready to cut into strips for my string blocks. I still need to get out my scrap bag and pull out more blue.
I highly doubt that I get any further on string block project, which means that blue month with the soscrappy blog will come and go without me doing anything.
I need to get the covers made, hopefully by Sunday at 2 people at church have each requested one.
What can I get done this next week? Only time will tell, but I really do hope a lot more than what I got done over this past week!
Here's something fun for you.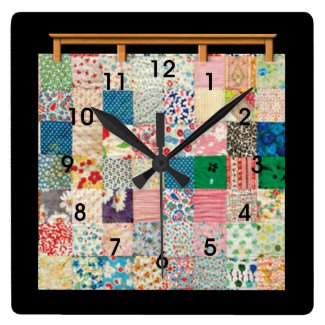 Vintage Patchwork Quilt Square Wall Clock
by
ClockORama
I link up with the following blogs. I hope you will check them all out.
Jo's Country Junction:
http://www.joscountryjunction.com/
KatieMae Quilts for BOM weekly linky.
https://www.katiemaequilts.com/blog/