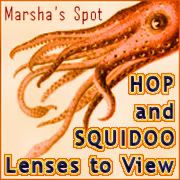 Here it is, the last day of July. Let's get squidooing!!
Ok, mostly that is probably for myself. I've visited lots of lenses this past week, but haven't done any updating to my own. Surprisingly they are all still out of WIP status.
I have my binder out and ready to get some updating once I am done with this post.
It looks like I had one small sale this past week. Of course payday for it will be in September at least. That's ok, every bit helps me get to that $25 payment threshold.
Last week while updating I ran into a lens that I had trouble getting to 100%. It was down for low quality content. I went through it adding words in the amazon module for the books that we have, or have checked out from the library. I put more words under the pictures. I even put words with the youtube videos.
This lens has a lot of allposters. I removed one of those and it finally went to 100%. I actually thought it still had too many so I took out a couple more as well.
How is your squidoo going?
I look forward to visiting your blogs and lenses this week!