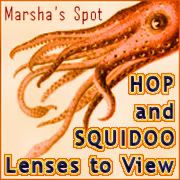 The Best Of lenses....something new and something that sounds pretty good.
I opened my dashboard yesterday and seen the blue icons. I clicked then read the HQ post on it.
I have to say that I'm pretty well still in shock that they would pick any of my lenses to be best of.
However, the four that are chosen are all with the news lenslet formats.
Now I am wondering if they will all be just made with those? I don't recall reading that, but have a feeling that's how it is.
I will share 2 of mine in the linky today. If you have any, please do share those this week......along with any blog posts you may have done about squidoo.
I did update one lens this week. I'm glad that I did. It was a prompting by the owner of the the Online Craft Mall to get my act together with my items there. Sometimes I need that push to get me around to the things that I have been putting off.
I hope to see lots of shares this week and I wish you all a Happy Easter coming up!