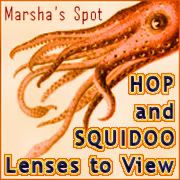 Happy Thursday--or I hope it is with you and squidoo.
How is everyone doing with the new filters, lens locking and such?
So far mine are still all fine. It must be time for me to start doing some updates and see what happens. I was warned that it's when I update is when I will run into problems hitting the new filters. So far on the few that I have updated they have published fine.
I read a long squidoo post over in bubblews last night. If you would like, you can check it out here: http://www.bubblews.com/news/640173-squidoo-deleting-lenses
There are a lot of lensmasters over on bubblews, which I am so glad to see. I've gotten to know so many of you through your lenses then of late through the facebook groups.
Please link up 1 or 2 lenses of your choice again this week, as well as any blog posts you have done. Thanks!!