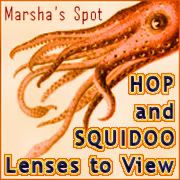 This week I would like you to link up your top 1 or 2 ranked lenses.
I don't know what keeps a lens at the top, other than the obvious that people are actually viewing it and maybe actually buying something from it, or clicking to an outside link.
I am pretty sure that the ones at the top of my list stay there because when someone clicks to my profile to return a comment favor or the like, they just click from the top. I, on the other hand, do the opposite when I am returning a comment favor. I click through the pages, sometimes starting at the last page of their lenses. If I don't, it's because I truly am interested in the info inside one of the top ranked lenses on their list. I do always try to find a lens that is of interest to me, over just clicking to view.
As most of you know, my biggest squidoo goal is continual updating of my lenses. I am in hopes this will help my rankings as I don't have a single lens that is in tier 2, let alone tier 1!
What do you think gets a lens into the higher tiers?