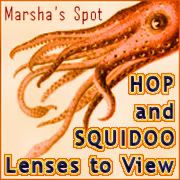 I've really "backslid" over the past month or so with squidoo. There have just been so many things that have taken me away from the house and my computer for so long. This past 2 weeks it's been taking care of 5 grandchildren while my daughter works out of state. Whew!

I did get in some updating of lenses just yesterday and noticed 2 lenses on the verge of going into WIP status. This morning one of those has. The second one up is only 185 away from WIP.

This has prompted me to use the facebook group theme for this week of lowest ranking lens. I would love it if you would share your 1 or 2 lowest ranking lenses in this week's linky.

Please also share any blog posts you have done where squidoo is mentioned. Thanks!